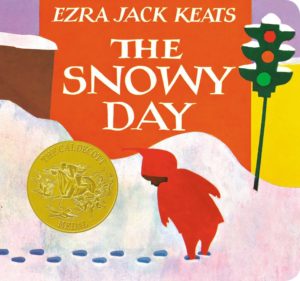 Hopefully The Snowy Day by Ezra Jack Keats is not new to you, but if it is, let us tell you something about it. It came out in 1962. We remember that time period. We know what the world was like. But here came this book, this simple book about a little Black boy spending the day in the snow. There was no fanfare, no social media to show support, but The Snowy Day did numbers.
Parents loved it. Teachers loved it. The world breathed around it. Here was a little Black boy who was not caricatured, who was not portrayed as a buffoon or an idiot, but as a little Black boy, doing what little boys, all little boys, no matter their color, do.
After over 50 years, The Snowy Day is still doing numbers, still making its rounds, and is even on Netflix, but we don't want you to watch it: Read it. Read it with your children and give them a bit of its history. The Snowy Day set the line for children's books. It started the fight to normalize ethnic fiction. It matters.
Pick up a copy by selecting the image above.
Babymoon by Hayley Barrett is a sweet type of book, a soft book, that you can read to your baby or toddler. It tells the story of when you first came home, how you basked in the concept of family, how you focused on getting to know your baby.
It only tells the pretty parts of new parenting, and we're okay with that. Hopefully you are too, because we think mom and baby couldn't have been more beautifully rendered, and the words are pudding.
This is the perfect gift for new parents, but not a realistic purchase if you are past this stage. Pick up a copy by selecting the image above!
In The Thing Lou Couldn't Do, Ashley Spires has provided the sweetest book about overcoming your fears. Lou, a courageous, adorable, brown girl, has the biggest imagination, and the greatest friends. They play all kinds of games and enjoy life, but when her friends decide to do something that Lou hasn't done before, she procrastinates, she stalls, she makes excuses. Unfortunately for Lou, her friends have a great time. Without her. What will Lou do? Will she continue to play alone or will she try?
Fun images, great dialogue, and a set of friends that represent all races, The Thing Lou Couldn't Do tells children how bravery can be found in the little things, right alongside with the big ones. You can pick up a copy by selecting the main picture or preview the book by watching the Youtube link.
Max and the Tagalong Moon by Floyd Cooper is the heart-warming story of a little boy and his grandfather. Max loves his grandpa, but he has to go home. As he is saying goodbye, his grandfather reminds him that they will never be too far apart because wherever Max is, the moon will follow, and that is the same moon that is above Grandpa's house. Max watches the moon through the window until it disappears behind some clouds and does not come back out. He begins to worry that his grandfather was wrong, and the moon did not follow him, but later, in his bedroom, he finds the moon outside his window.
Perfect for children who are missing loved ones that had to go home or that they had to leave, Max and the Tagalong Moon is a magical book that encompasses the sweet relationship between grandparents and grandchildren.
Pick up a copy by selecting the image above!
Disclosure: This site is a participant in the Amazon.com affiliate program. Some links may be affiliate links that pay this site a commission at no cost to the reader when a purchase is made after a click.