We really wanted to love A Song Below Water, but we ended up just liking it. It was slow in pace for much too long during the beginning, and while it redeemed itself about halfway through, the slog to get there was rough. In the end, we liked the book, and will definitely be reading the second book in this installment, but be warned. We had to get there.
Anytime a Black character is written by a non-Black person, Fuzzy calls it out. Justine Larbalestier is not Black, and her main character's race seems to be tacked on rather than a unique identity. However, that is a bit of the charm, right? It allows for us to experience Liar through the eyes of a character that isn't defined by her experience as a biracial person in society. The problem there is that…that's not possible in current society. So, take it with a grain of salt, but definitely enjoy the foray.
Ibi Zoboi really did "remix" Pride and Prejudice with her novel, Pride, and we are here for it. If you take Austen's masterpiece, and throw in some NYC swag, some Dominican values, a heap of Black girl magic, and a dusting of gentrification, you might come close to understanding just how dope this book is, but then you need to include the poetry, the imagery, the relationships, the tension, and WHOA. We loved this book. Bravo, Ibi, bravo.
Be prepared to follow the mystery, the trepidation, the fear. Then, be prepared to cry. Monday's Not Coming is a gut-wrenching, often confusing, but gripping your seat ride through the story of Monday, who has disappeared, and her best friend, Claudia, who is the only person who's noticed. 
Pick up a copy by selecting the image above.
In Pumpkinheads, Faith Erin Hicks and Rainbow Rowell have paired up to write a highly entertaining, heartwarming graphic novel for young adults. 
It is Deja and Josiah's last night working at the pumpkin patch, which they do every year. But this year is different. This year, the pair are seniors and they will be off to college and real life next year.
Josiah starts out the night determined to be maudlin, but Deja has a plan. She wants to taste all of the food, ride all of the rides, and push Josiah into talking to Marcy, the girl he has been mooning over for years.
We liked this book. The graphics are good, the story line is cute, and while there were a couple of things we found micro-aggressive,  one of the main things we weren't sure of was Deja. It was great to see a plus sized young woman as the main character, but does she always have to be about the food? Every chapter, Deja is jumping for food. She could just be a foodie, but it was one point we wanted to warn our readers about. We still recommend it. It was an excellent experience.
Grab a copy by selecting the image above!
Tomi Adeyemi's Children of Blood and Bone is an amazing experience. Her world-building is created with masterful prose, incredible story-telling, and a plot that grips the reader and doesn't let go. We spent hours pouring over this book, and we can't wait to read it again. 
Magic once existed and Zélie Adebola remembers when it did, when the kingdom of Orisha was embedded with magic in the very air and the land. But one night and one fearful king changed the tide of magic and obliterated it, Zélie's mother, and all other magi away.
Now, Zélie has a chance to bring magic back. With the help of her brother, her faithful steed, a rogue princess and a vibrant cast of supporting characters she meets along the way, can Zélie stay ahead of the crown prince and his soldiers? Can she evade the king? Most of all, can she survive long enough to bring magic back to Orisha? Most of all, does she want to?
Rife with descriptive prose, lush landscapes, and a plot line that yanks the reader into unexpected twists and turns that are delightful in their approach, Children of Blood and Bone is a awesome first book in an entertaining series that we look forward to continuing to read.
Rick Riordan's Red Pyramid is definitely a tween and up book, but it ranks up there with as one of our favorite series.
Carter and Sadie Kane, siblings who are the descendants of ancient pharaohs and magicians who could literally host Egyptian gods, embark on an amazing fantasy adventure to find themselves, repair their relationship and save the world.
Rick Riordan did an amazing job of combining the storylines of both biracial children in the world of man, and the story of who these children are in their fantasy environment. Easily recognizable issues blend well with fantastical magic and skill. Together with an all new cast of Riordan characters, Sadie and Carter fight, make friends with, or evade both gods and goddesses alike.
Slightly cheaper on Thriftbooks, but only if you plan on getting the free shipping, which then requires you to spend more, you can pick up a copy of The Red Pyramid on Amazon by selecting the image of the book.
Her papi is in jail; her mother is gone; her abuela is distant; If that's not enough, fifteen-year-old Mari Pujols is with a baby who has half a heart. Covering a vast array of issues, many of which address what it is to be Hispanic and female in the U.S., but others that have everything to do with being a teenage girl, Water in May was an incredible journey into culture, motherhood, and what it is to be a family. Fuzzy Afro Logic loved this book for its message of courage and strength, but we especially enjoyed the indomitable spirit of the main character and the many, many Spanish words and phrases we got to investigate and learn (not all of them are flattering, but many are useful).
If you had the chance for freedom, would you take it? Meet five girls who did.
Set in an alternate world where brown-skinned people, the dustbloods, do not have shadows, and are enslaved by landlords, the fairbloods, Charlotte Nicole Davis has created an amazing coming-of-age story of adventure, adversity, and staying true to yourself.
Trapped in a "welcome house" as a "good luck girl," that has owned them since they were children, Aster, Clementine, Tansy, Violet, and Mallow have all seen the ugly truth of their so-called luck. Luckers work hard as daybreak girls until their sixteenth birthday, and hard as sundown girls doing a different type of work after they come of age. There is nothing lucky about this, so when one of their own accidentally kills a man, five of these girls, a mix of daybreak and sundown alike, not only take her side, but make a run for it.
It's a race for freedom, and everything, from the people they meet to the ghosts that attack them, from the lawmen on their tails to the cursed tattoos marking their cheeks, is against them. Will they make it to freedom? Better yet, will they survive the journey? We were on the edge of our seats the whole ride!
We loved The Good Luck Girls and think you will too. The least expensive copy we found was on Amazon so pick up yours by selecting the image above!
You've probably seen the movie, but many haven't read the book, and Angie Thomas' novel, The Hate U Give, is definitely worth a read.
While the book has been sensationalized for its depiction of the struggle for black people in urban environments, particularly when something nefarious happens, the conversation within The Hate U Give is much more diverse. One subject this novel gives insight into is the difficulties of African American people who are forced to code switch. Starr Carter, the main character, attends an affluent, mainly white school, and though much of the book centers on the police shooting she is embroiled in, the question of Starr's identity is skillfully woven into every aspect of the novel.
Angie Thomas' debut novel is an amazing accomplishment and we think you will love it just as much as we did. Pick up a copy by selecting the image above for Amazon.
Virginia Hamiliton's Sweet Whispers, Brother Rush is not so much of a ghost story, but more of a teenage girl's journey through time to come to the understanding of her past, her present and her future.
Sweet Whispers, Brother Rush is a journey for identity; the novel covers many themes, such as poverty, single parenthood, special needs and other conflicts that are, in places resolved or left open. The book is a thrilling ride that asks the reader for maturity as they join fourteen-year-old Tree Pratt and her brother, Dab in one reality, and her mother Viola and Tree's uncle, Brother Rush, in another reality. 
As we know from all of Virginia Hamilton's works, the characters are ethnic, specifically African American, and they live and thrive in an ethnic community. Sweet Whispers, Brother Rush, is a perfect coming-of-age novel for the modern, ethnic teenager, and you can pick up a copy by selecting the image of the text.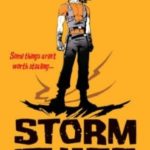 The Storm Thief is an amazing piece of young adult science fiction. The novel takes place in the magical, storm-lashed city of Orokos. This dark, chaotic place is full of impossibilities and random change that can mean death.
We loved The Storm Thief. The main character, Rail, is an ethnic boy, described as dark-skinned with locs. While he and his female counterpart, Moa, are both thieves, Rail is the stereotypical thief with a heart of gold; he has been taking care of Moa, fragile, weak, and vulnerable, for years. What Fuzzy found interesting is the parallels between Rail's magically-induced asthma, and reality. Rail cannot breathe without assistance, just as many ethnic children navigate the tense climes of their actuality by dealing with the oppressive environments that penalize them just for existing, aka, breathing. In The Storm Thief, Wooding supplies Rail with a face mask that helps him breathe, just as we tend to provide ethnic children with metaphorical masks to help them navigate society.
Not to get too deep though. In the end, The Storm Thief is a delightful tale of intrigue, magic, thievery, and a quest for the impossible. As the book jacket states, Orokos is "a world where everything is deadly…and anything is possible."
Pick up a copy by selecting the main cover picture, which will lead you to Amazon, and assist us in maintaining Fuzzy Afro Logic.
We wanted to love Rena Barron's Kingdom of Souls, but we didn't. The writing is decent, and the characters are interesting. The world is amazing, but the reader is left with too many questions, the first of which is: What just happened?
In literature, there is a need for the anti-hero, a place for the villain, a reason for anarchy. In Kingdom of Souls, that reason is there, but it is dark and archaic, and frankly, self-hating. In a world that is completely ethnic, with only ethnic people, histories and backstory, every powerful being is toxic. The king and his people, the magi and the gods, the demons, and even our main character, Arrah, the girl who would do anything to have magic. The world is amazing, but the build-up is a solid let down in a way that alienates the reader.
But this alienation led us to also ask: Why? Amidst the colorism, self-hate, mental illness, and chaos of Kingdom of Souls, why did Rena Barron write this book? Is the toxicity a fantasy take on how ethnic communities work? How African-American communities turn on each other? Is there an idea of how mixed children (which one of the main characters is) do not have a true place in either race, and as such, spend an inordinate amount of time not only trying to belong, but seeking acceptance? Because all of this dialogue is there, albeit heavy-handed in its approach. Kingdom of Souls is not perfect, and the messiness that is found within its pages is intriguing in its own way.
While we didn't like it, we also didn't hate it. Pick up a copy and form an opinion. Then, email us and let us know!
Disclosure: This site is a participant in the Amazon.com affiliate program. Some links may be affiliate links that pay this site a commission at no cost to the reader when a purchase is made after a click