Who doesn't love a little bit of melanin and a whole lot of afro? Toss in some super smarts and some amazing story-telling, and you've got Jaden Touissaint the Greatest by Marti Dumas, and this is just Episode 1.
Five-year-old Jaden just wants a little bit of screen time, or a lot, if he can make it happen, but his parents and his sister just aren't letting him get to the goods. 
Thankfully, Jaden is smart. Super smart. So, he has a hypothesis, a theory, and a standard test method. It's Jaden against the world, or at least against those who would oppose his screen time usage. Who will win? Jaden? Or the grown-ups?
Pick up a copy by selecting the image above to find out!
We can't express how much we love Sleep Well, Siba and Saba by Nansubuga Nagadya Isdahl without gushing. It is soft. It is sweet. It is surreal and beautiful, grounded in reality and out-of-this-world.
Sleep Well is about Siba and Saba, two beautiful, Ugandan girls who constantly lose things, all kinds of things, but they find them in their dreams, and we, the readers, get to see them in both their reality, and their dream world. The juxtaposition of these two realities is this amazing shift that shows how dreams can become reality, and how reality can sometimes be like a dream.
The illustrations are just as softly done in pastels and lighter colors, as the tone of this book is done. Dreamlike yet somehow solid. There is so much to look at that you can spend a good amount of time just going over what you see in the images with your child. There's more, but like we said, we're trying not to gush. 
Come enjoy this book with us by selecting the link in the picture above!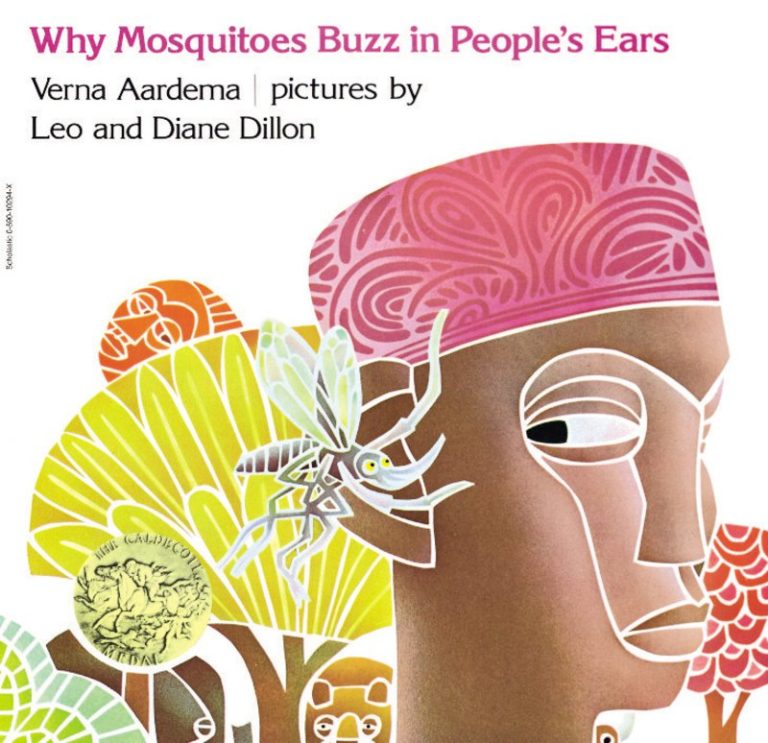 In the 1970s, Verna Aardema spent decades writing folklore for young readers and their parents, so even though this is our first book to review by her, it will definitely not be our last.
Why Mosquitoes Buzz in People's Ears is a gorgeous re-telling of a West African folktale that looks at action and consequence, cause and effect. This is a story that you want to sit down and read with your child, as the storytelling really does represent the oral tradition of the tale, but also to laugh at the silliness of the the iguana, commiserate with the owl, and hear the booming voice of the lion.
The artwork is so alive and vibrant that the illustrators (and subsequently Why Mosquitoes Buzz in People's Ears) won a Caldecott for their use of friskets (oiled paper) and vellum cut shapes, watercolor airbrush, pastels, and India ink, which created the textured appearance of the artwork.
Why Mosquitoes Buzz in People's Ears answers that age old question you have always asked when you heard that annoying buzz, and it's a fun way to find out with your child.
Pick up a copy by selecting the link above!
.Marisol loves to paint. She loves to teach others how to paint. She thinks anyone can be an artist. One day, her teacher tells the class that they are going to paint a mural for the school library. Marisol is excited. When all of the other students are yelling out what they plan to paint, Marisol is right with them, exclaiming, "I will paint the sky!" But there's no blue paint. How will Marisol paint the sky without it?
Simple and concise, but full of lessons in observation and fortitude, Sky Color by Peter H. Reynolds is an adorable book about a girl and her paintbrush, and the many colors of the sky. Pick up a copy on Amazon by selecting the main image, or watch a calm, soothing telling by selecting the image above.
Monster and Me by Robert Marsh and Tom Percival is an awesome graphic novel. It is age appropriate, and the world that these two have built is fun, but also ground in reality.
Every kid in town has a monster in their closet, but 12-year-old Gabby refuses to leave her monster, Dwight, at home. Instead, she takes him to school, and that's where the shenanigans begin. Dwight plays baseball. He acts. He even has a speech therapist! Each adventure comes with its own challenge, and each one shows its readers how to overcome adversity.
Lush with color and an exquisite ethnic girl, Monster and Me is a fun adventure for both parent and child. Sometimes it is hard to get our children excited about reading, but Monster and Me is an easy ride that still provides some great lessons.
Steeped in Nigerian folklore and stylistic storytelling, Nigerian writer Chinua Achebe has brought How the Leopard Got His Claws to life with vibrant language.
In the beginning, all animals were friends, and the leopard was a kind king, until something happened that caused the leopard to become the vicious ruler that we all know now. In How the Leopard Got His Claws, we experience a story that feels like what it is: something steeped in African folklore with Nigerian roots. African patterns, tribal animal shapes, and lush colors all serve to embellish and enrich this already vibrant story.
Pick up a copy by clicking on the image above!
Polish author Marzena Sowa originally released That Night a Monster, an elementary graphic novel in Polish, but now, thankfully, it is in English, as well!
One morning, Thomas wakes to find that his mother has been replaced by a fern! Tommy has to find out what happened. Accompanied by his best friend, his dog, Moomin, he goes on an analytical journey to find his mother and get rid of the fern.
Pick up a copy by selecting the above image!
The cover of the book to the right, the photo that inspired it all to the left. Meet Parker Curry, author and main character in the tell-all memoir of an iconic moment in little Parker Curry's life: the day she discovered the Michelle Obama portrait at the National Portrait Gallery in Washington. Parker is gregarious, adorable, and full of confidence. She has been on Ellen, danced with Michelle Obama, and does books signings, but long before all of this fame, she was just a tiny little girl staring up at Michelle Obama's portrait in wonder.
Fuzzy Afro Logic loves Parker Looks Up for all of its joy, but especially for its subtle approach to the inspiration and carefree joy of a small child who has discovered someone they look up to.
When Jessica Retseck decided to raise children in Belize, she never knew she would ned up becoming a best-selling children's book author. But she did. 
In Caye Boy: Barefoot Adventures of an Island Child, we follow two island children, sun tanned and afroed, as they ramble around their whole island. There are hermit crab races (and a hermit crab on every page to find), lazy naps to take, and a whole island to explore. Full of vibrant color and down-to-earth language, Caye Boy is the first book in a series of heart-warming, fun books that teach your child all about Belize.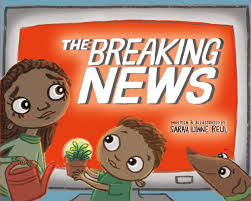 The news affects us all, whether we understand what is happening or not. Told in first person through the eyes of a child, The Breaking News by Sarah Lynne Reul touches on how adult reactions to world events affect children, too. 
When heavy news causes everyone around her to be sad, one little girl wants to help, but nothing she does seems to be making a difference. Or does it? Full of life lessons in an easy to read format, The Breaking News shows not only how one person can make a difference, but how goodness is contagious.
Pick up a copy by selecting the image above!
The first book in Noah Z. Jones' Princess Pink and the Land of Fake-Believe series, Moldylocks and the Three Beards, is a tumbling, rip-roaring ride into adventure. This book is an awesome foray into novice graphic novels, as well.
Princess, who is not a princess, but the only girl in her family, hates pink. Her mother just wants to dress her as a girly girl, but Princess wants to be a cowboy instead. When she opens her refrigerator and falls through it to the world of Fake Believe, Princess has to get used to pink, a moldy Goldilocks, and a familiar story that has been flipped on its ear!
Adventure, rescue, and of course, plenty of magic and running, Moldylocks and the Three Beards was a wonderfully fun start to a series we plan to see more of. We also love that this series is pretty inexpensive. Grab a copy on Amazon by selecting the image above!
Based on a Pakistani-American girl by the name of Yasmin Ahmad, Meet Yasmin is the first book in a series about a precocious girl who deals with big adventures in everyday life. 
Fuzzy Afro Logic really enjoyed this book because it gave us the opportunity to explore a Pakistani family dynamic. We love that author did not approach anything unfamiliar to other Americans as unusual, so when Mama put on her hijab, she just put on her hijab, and the child is left to recognize that Mama takes her hijab off at home, just like wearing a hat. It was left up to the reader to learn that Baba was her father, that naan came from the bakery, that jaan is a term of endearment.
Meet Yasmin was adorable in her worries, and the artwork is vibrant, fun and an amazing rendition of Pakistani people. Pick up a copy on Amazon by selecting the image above!
Disclosure: This site is a participant in the Amazon.com affiliate program. Some links may be affiliate links that pay this site a commission at no cost to the reader when a purchase is made after a click.